Opening of the Research Project "Reunion On The Grass – Sharing what can't be solved!" in das weisse haus, Vienna, Austria
---
Opening: September 11, 2018, 7 pm
Duration: September 12 – September 20, 2018
Das weisse haus
Hegelgasse 14 | 1010 Wien
"All artists are alike.
They dream of doing something that's more social, more collaborative, and more real than art." 
Dan Graham/Claire Bishop "Artificial Hells" (2012)
After two years in Vienna, artist and curator Bojana Stamenković started to ask herself where her persistence and resistance to all kinds of initial situations had gone: Am I going to be able to continue creating? How am I going to encourage myself to carry on? Could some kind of unity with other female artists help me accomplish that and could our mutual approval of each other's quality and further work be enough?
These were the questions around her project, a research focused on the precariousness of female artists as migrants with the symbolics of the reunion/breakfast on the grass which represents one of the revolutions in the history of modern art. The same way we wonder why there is a nude woman in a male environment in public space (e.g. "The Luncheon on the grass" by Edouard Manet, 1863), during the picnic breakfast Bojana Stamenković invited female artists to wonder about the purpose of their existence as such in a new cultural environment.
Research Project "Reunion On The Grass – Sharing what can't be solved!" by Bojana Stamenković in collaboration with Isidora Krstić, Neda Nikolić, Mirjana Mustra, Ivana Smiljanić, Jelena Micić, Bárbara Palomino Ruiz and Vera Klimentyeva.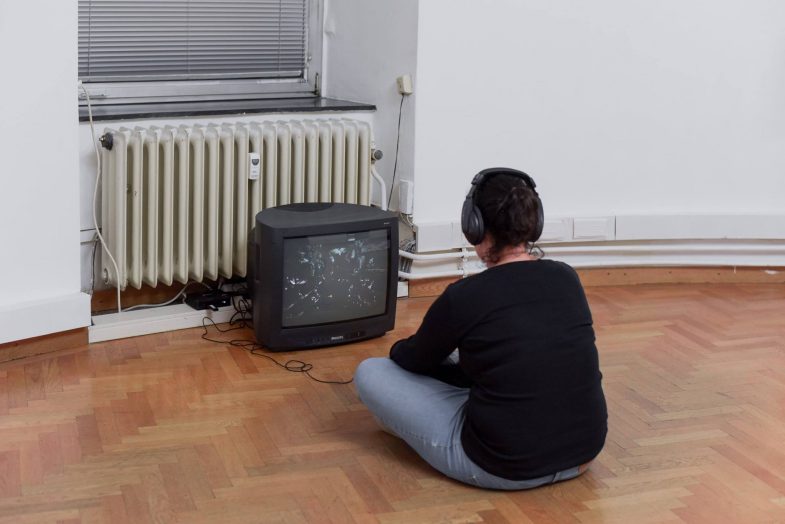 ÉCHANTILLON, Bárbara Palomino Ruiz, 2016. Video HD, 3min 21sec.
Fotocredit exhibition in das weisse haus: ©eSeL – Joanna Pianka